Products Name : VENETRON
Ingredients : Rafuma extract (Apocynum venetum L.)
Efficacies : Sleep support, Anti-Stress, Anti-Depressant
Producer : Tokiwa PhytoChemical
Product Description
VENETRON is Rafuma extract that provides sleep support and recution of streess.
VENETRON increases Serotonin and Melatonin to contributes good sleep. It also enhance the GABA affinity to GABA receptor and improve the effect of GABA.
Product Features
Natural derived strss reduction
Improvement for Quality of sleep
Product Detail
Clinical data of Sleep Quality Improvement

Retrieved from
Effect of an Apocynum venetum Leaf Extract (VENETRON®)on Sleep Quality andPsychological Stress Improvement―A Randomized, Double—blind, Placebo—controlled Crossover Study― (pieronline.jp)
Effect of an Apocynum venetum leaf extract (VENETRON®) on sleep quality and psychological stress improvement
Asami Nakata1, et al.
Other details
PDF Material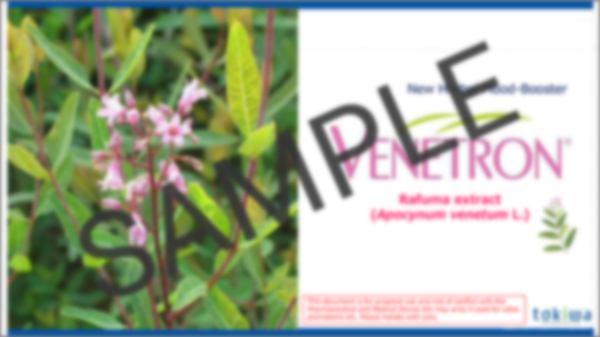 If you would like a PDF document, please contact us using the form below.
If you would like to know more details, please contact us here