Products Name : CAIAPO
Ingredients : CAIAPO Peel Powder
Efficacies : Anti-Diabetic
Producer : Fuji Sangyo
Product Description
CAIAPO is a anti-diabetes supplement
derived from natural source of white sweet potato (peel part).
CAIAPO will reactivate insulin activity to the original status, which improves insulin rssistance.
Since excessive insulin secretion does not occur,
there are no side effects.
Product Features
Natural source of Potato
No side effect
Improvement of Insulin resistance
Proven by Clinical data
Product Detail
Examination in Human Clinical Trials for Diabetes patients.
EffectofCaiapoIntake on Fasting Blood Glucose Level
Reference:Ludvik, B., Neuffer, B., et alÄi0., Diabetes CareÄi0, 27Äb0, 436-440(2004)
A 12-week intake study using a double-blind method was conducted in 61 obese patients with type 2 diabetes. Efficacy was evaluated by comparing the fasting blood glucose levels at baseline, 1 Month, 2 Month, and 3 Month after intake, blood glucose level at 2hours after loading in the glucose tolerance test(glucose load amount: 75g), and HbA1c.
Dosage:Caiapopeel powder 4g/day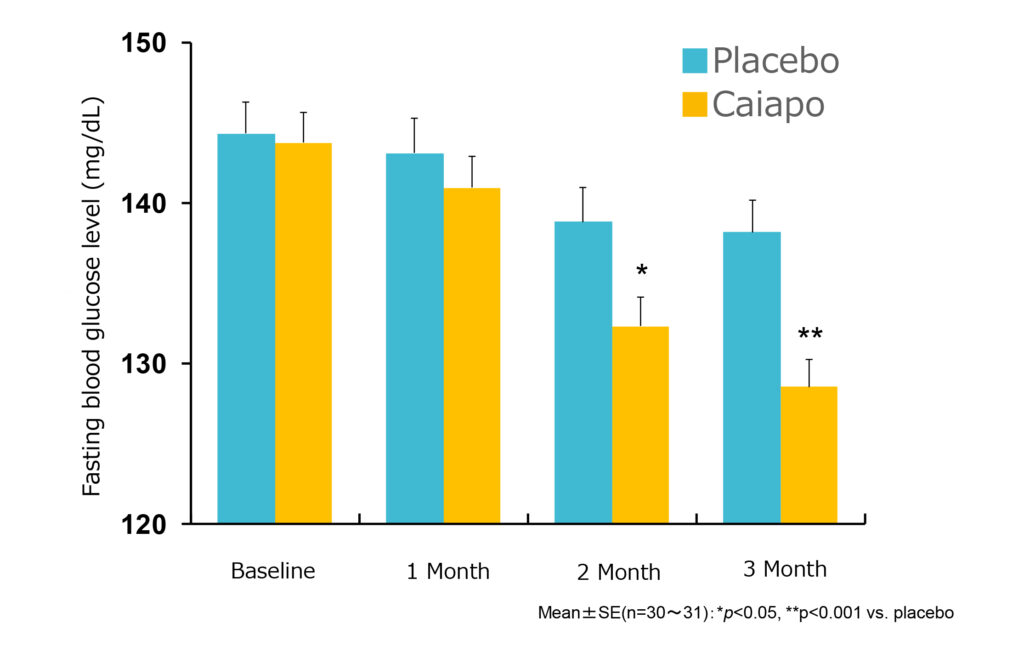 Other details
PDF Material
If you would like to know more details, please contact us here